---
Personalized Veteran plates are available as passenger, truck or motorcycle plates.
Personalized Vet plates come in two categories. First, there are Veteran plates for a particular branch of service, bearing the standard emblems of the Army, Navy, Air Force, etc:


Second, there are Unit Designator plates, showing designators for particular military units. Here are the emblems I have seen so far: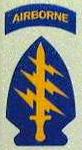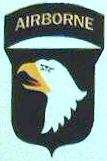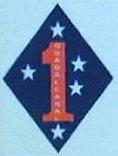 According to the Alaska DMV, from their page about veteran plates:
"In addition to the following plates, Unit Designator Personalized Veteran Plates are also available. Contact George Gaguzis at 907-269-5559 for further information on Unit Designator Vet Plates. A brochure showing samples of the new personalized Vet plates can be obtained at a DMV office."
I dropped by the Benson DMV, but they didn't have any of the pamphlets available. They did have the application available, however, and so I was able to get the list of unit emblems. At this writing, the emblems available are (according to DMV form 803V (rev. 12/2003)):
1st Airborne
1st Infantry
1st Calvary Div
1st Marine Div
2nd Infantry
3rd Infantry
4th Infantry
10th Mountain Div
25th Infantry
75th Ranger Rgt
82nd Airborne
101st Airborne
172nd Infantry
173rd Airborne
Alaska Air Command
Alaska National Guard Crest
Alaska National Guard Patch
Pathfinder
Ranger
Special Forces
USARAK (bear patch)
101st Airborne Division
Special Forces (Green Beret)

Here are some actual plates I've seen. Note that, even though form 803V has the standard warning about not allowing AAA111 requests, the VAR101 plate below appears to violate that rule, and is a direct potential collision with other Veteran plates.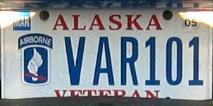 Would you like your plate displayed here? Send me a photo!
---
About | Disclaimer | Contact | My home page | My blog | Roycelinks
Copyright ©1998-2009 Royce Williams.
Last updated 03/02/2005